Laser TV leads the development trend of high-end large-screen TV
What kind of TV is laser TV after all? To put it simply, laser TV is a TV ahead of current LCD TVs and OLED TVs, which belongs to the fourth generation of display technology. Compared with traditional LCD TV, laser TV is more comfortable, more environmental-friendly and more conducive to eyes, with lower power consumption, larger screen, better display effect at cheaper cost.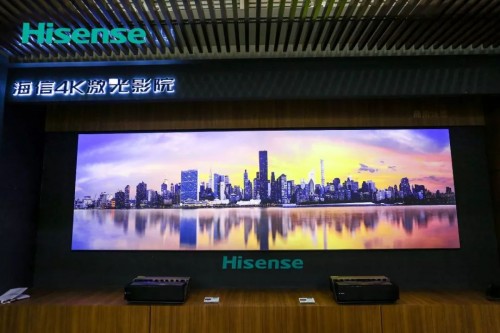 Audio-visual experience is the direct experience of consumers. Take Hisense laser TV L7 as an example, its two-color laser module promotes the TV brightness to reach the standard of high-end LCD TV, and 160% color-gamut coverage presents a better picture display effect, exceeding the standard of LCD TV. In addition, Hisense laser TV utilizes HDR imaging technology and 120HZ MEMC technology, which further improves the picture quality and smoothness. Meanwhile, equipped with MStar 6a-938 processing chip and supplemented by 4+64GB memory, Hisense laser TV ensures us a fluent and smooth frames without pauses when wakes 4K mode, shaking off insufficient shortage space, and speeding up the operation.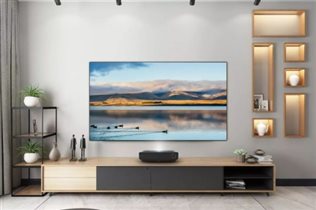 This TV provides a cinema-like audio-visual experience through Harman Kardon's professional customized stereo embedded into the host. Additionally, Harman Kardon is commissioned to customize acoustic structure design, audio unit production and professional sound-quality adjustment. The stereo is equipped with a 5.8G wireless subwoofer with a low frequency of 40Hz, equal to the professional level of audio. Meanwhile, energy saving is another advantage. For instance, a 100-inch laser TV consumes less than 300 watts, about a half to a third of the power of a same-sized LCD TV.
Naturally, the brightest feature of this laser TV is eye protection, the most attractive point to families with children and the elderly. In fact, eye-injury is caused by long-time inevitable direct lighting and high-light stroboflash of traditional LCD TVs. But scenes of Hisense laser TV are formed in our eyes after screen reflection, as comfortable, healthy, natural and eye-protective as how natural scenery under the sun is imaged in our eyes. According to the evaluation of ophthalmology experts and authoritative institutions, Hisense laser TVs are displays fully satisfying theoretical vision requirements and harmless to naked eyes. The screen generating no radiation characterizes with eye protection, health and comfort, therefore it can increase reading comfort level by 20% compared with paper reading.
In the foreseeable future, Hisense laser TV supported by many leading technologies, will continue to occupy a larger share of the high-end large-screen market and bring more healthy and comfortable movie-watching experience to more families.