Galanz customized dishwashers for couples nip the problem of "Who washes the dishes today"
A dishwasher can not only liberate our hands but also improve life quality, getting widely recognized by consumers in recent years. However, nowadays the kitchen is very expensive and crowded, therefore the limited space becomes the problem that everyone must consider before buying the dishwasher.
On August 8, Galanz desktop dishwasher G2 is launched on JD for pre-sale. This dishwasher can be placed directly on the counter without changing cabinets and waterways, which is convenient and easy to use. The combination of powerful detergency and double effects of high temperature and pressure can perfectly solve all problems and difficulties.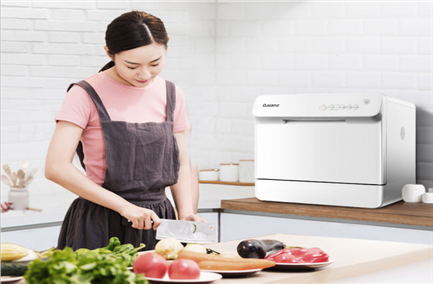 Small as a sparrow is, it has all its internal organs. This dishwasher features a pure white appearance where there is no one screw on the surface because it uses smooth, neat IMD pane. Its upturn operation panel can effectively prevent water penetration that can lead to dysfunction. Menu settings which can be taken in with a glance is controlled with touch. This 410mm-wide dishwasher can be installed by connecting the waterway and placed directly on the cabinet without any modification. Its small body can accommodate more than 20 pieces of tableware, meeting the needs of a family of three. With this dishwasher, cleaning is no more tiresome and fresh dishes and chopsticks can be available at any time.
This dishwasher contains four washing modes: powerful washing, fast washing, economical washing and self-washing, which can solve multiple oil-pollution problems, which is the biggest concern for consumers. Using 360° omni-directional spray system, this dishwasher can wash all dishes clean through 29Kpa water erosion and by covering every corner of the cavity. For undue oil-pollution, users can set 72℃ to melt and sweep oil pollution with the help of high pressure. As a result, chopsticks and bowls can be clean as new.
As we all know, washing dishes with hands takes the time of 10 to 20 minutes around the sink each time, leading to wrinkled hands. But now with the development of science and technology, dishwashers make life convenient and rich. Take a few minutes to set the table, start the washing process, then you can enjoy the coziness after a meal.
With a high level of appearance and the ability to load and wash, a dishwasher can save more time for us to enjoy life. With its advanced technology, Galanz continuously offers products with high appearance levels, high-cost performance and high quality. Through the connection of Galanz+ smart home platform, you can controls micro-steaming, baking machine, dishwasher, smoke stove, water heater and other products with one screen. It is what we called that technology dances on your fingertips and happiness hides in the kitchen.
It is reported that to satisfy the demand of more consumers, this dishwasher can be booked on JD platform since August 8. The deposit only costs 10-yuan, but you can enjoy 999-yuan products. Once booking successfully, you may have the opportunity to obtain a 600-yuan appliance gift. It is the optimal time to realize your dream of no dishes to wash by purchasing a dishwasher.