AWE observation: differences between AWE and CES
When it comes to AWE, I believe no matter in China's home appliance industry or media specifying in technology, there will be no one who admits that he has never heard of it. AWE is annually becoming bigger, more attractive, gathering more and more audiences. All those who have been to AWE can directly experience it and confirm my statement. if AWE claims to be the second largest exhibition in this field, then the first position will be vacant.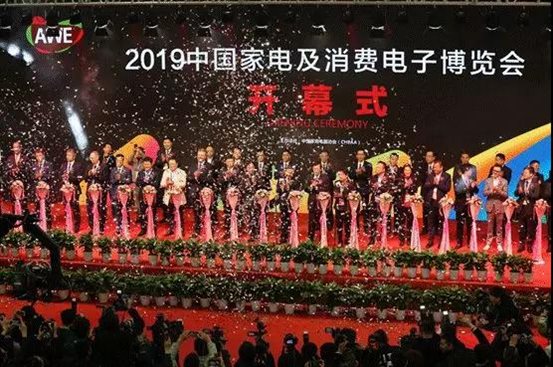 Although AWE has long been one of the world's top exhibitions in terms of scale, it is still a young and growing exhibition compared with the international top exhibitions like CES or IFA who have a long history of decades. As a media person who has attended CES and other international first-tier exhibitions for many times, today I'm going to talk about the difference between AWE and several top exhibitions abroad.
Flowing life flavor
Compared with old technology exhibitions in Europe and America such as CES, IFA and ceBit, AWE's predecessor "China home appliance fair" (which can even be traced back to "China international home appliance exhibition") is just a fair limited to the home appliance industry. Today, AWE has already completed the upgrading and transformation, but "home appliances" are still the DNA and soul of the whole exhibition, which is also the difference in "gene" between it and other international exhibitions.
Perhaps it is the gene difference that determines that the flowing life flavor of AWE is one of the most unique and attractive features.
At AWE, all exhibitors have made great efforts to present the most prominent features of their products to the audience. As for those enterprises producing kitchen appliance and small home electronics, they cook and share delicious foods on the spot, which provides an excellent opportunity to be close to audience and interpret product performance. When visiting AWE, people can often inadvertently find the local delicacies cooked in various exhibition stands, including the soft cakes, crisp egg tarts, refreshing juice, various kinds of barbecued meat and seafood... After tasting all these delicacies, you can even have a bowl of delicious rice as you wish.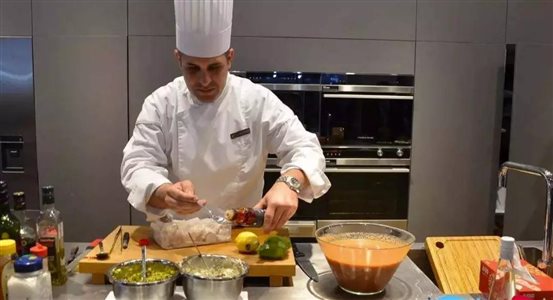 The live flavor flowing at the AWE 2019 has reached a new level. The host specially sets up a "food hall" with a large area, where visitors can experience all kinds of latest kitchen appliances, while avoiding the tedious trip of looking for food in different booths. Additionally, enterprises also have a better stage to display their product functions and performances. Can you imagine that you can eat such dishes at a non-food fair as beef cutlets, steamed sdge with garlic and pearls, roasted pigeons with pumpkin, grilled chicken with Cypriot flavor, and steamed Hokkaido Scallop with black truffle sauce? But AWE did that. It is rational to say that the flowing life flavor in pavilions not only soothes the stomach of visitors, but also makes AWE more real, friendly and lovely than other international exhibitions.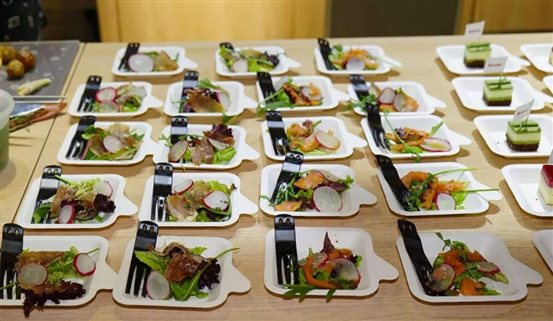 Comprehensive services
In 2008, AWE's predecessor—China Home Appliance Expo was relocated from Beijing to Shanghai, which is undoubtedly a wise decision especially from the current perspective of comprehensive service capacity. As a man from the Southern China having been drifting in Beijing for about 20 years, his appreciation for Beijing may come from its spectacular, grand atmosphere dotting everywhere: on the majestic Great Wall, the vast Tian'anmen square, an ordinary road, a parking lot... All these more or less reveals this temperament without exception. However, as for exhibitions, Beijing is not a very friendly city although it has some top exhibitions like Beijing international auto show. Since people having visited both old and new China International Exhibition Center understand what I am talking about, so I spare the details here.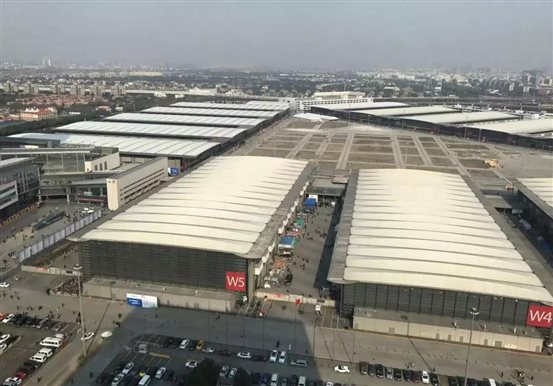 Shanghai and Pudong New International Expo Center have obvious advantages no matter from the volume and space of pavilions, or transportation, food, accommodation closely linking to the experience of exhibitors and visitors. Although there are still some queuing problems in the peak period of the exhibition, it's generally in order under the reasonable hardware and software arrangement of the AWE organizer and the Center. Reasonable layout insides provides a clear and efficient moving line for visitors. Tired of shopping? Seats for rest are waiting for you at entrances. Thirsty? Free water bars at the pavilion offer soft drinks ranging from mineral water to juice and tea. Hungry? You can get foods from burgers and pizzas to Chinese food and Japanese food at numerous convenience stores and restaurants in the pavilion. Want to go to the far pavilion? You can also take the free shuttle car at any time... All kinds of humanized details greatly enhance people's satisfaction when they attend AWE, which are rarely seen at exhibitions in Beijing and abroad.
Emotional Connection
In the traditional culture of China and even northeast Asia, "home" is a very important emotional haven. Although home appliance is the leading role at the booth of each exhibiting company, but "home" elements can be seen from everywhere. These characteristics also make AWE distinct from other exhibitions in temperament.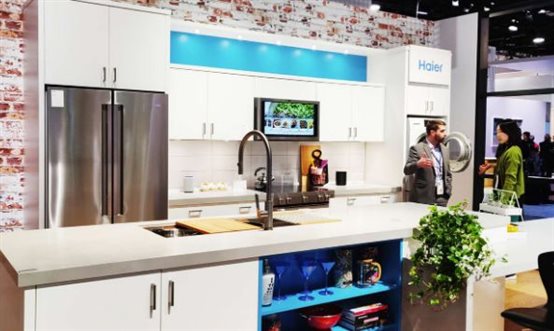 At CES/IFA and other international events, we can also see top-of-the-line booths designed by consumer electronics giants like SONY and Samsung, but they tend to be more technology-focused, futuristic, and less emotionally interactive. But at AWE, we observe considerable miniature scenes based on our real life, from the kitchen, dining room, bedroom, to living room and even private cinema, from which people can feel the connection between technology and our real life more or less. What the audience sees through AWE is no longer isolated technology and products, but vivid life segments and real scenes where people can achieve emotional connection through various household appliances. Therefore, calling AWE the "home savour" is perhaps more proper.
AWE2019 has come to the end. According to the statistics of the organizers, AWE visits this year is expected to exceed 300,000, a record high, greatly exceeding the scale of other international consumer electronics exhibitions such as CES. Absolutely, this delightful report card does not belong to AWE only, because it is also a true portrayal of the continuous growth of China's industrial strength and the steady upgrading of the consumer market in recent years. With the implementation of the national Belt & Road Initiative, Chinese household appliance enterprises will aspire strongly of going global while serving and satisfying the domestic market. In the coming years, AWE has the ability and responsibility to lead the whole industry to continuously improve its international vision and level to build a broader stage for it to go global.
AWE2020 is under preparation!
Main Information
Time: March 11-14, 2020
Address: Shanghai New International Expo Center (SNIEC)
Pavilions::W1-W5,N1-N5,E1-E3
Contact:
China Household Electrical Appliances Association
TEL: +86 10 6709 3609
FAX: 010-67156913
E-mail: awe@cheaa.com
WEB: www.awe.com.cn