AWE: Development trends of household appliance
Shift from product providers to service eco-system builder
5G era is going to sweep the board, while smart life is at hand. Boundaries of industry, enterprise services and product categories are gradually blurred. At the AWE 2019, we can see that more and more enterprises begin to extend their core products and services to advocate a new lifestyle through cross-border cooperation, and take the initiative to build service ecology. Step by step, they will finally complete the transformation from hardware manufacturers to service giver and the upgrading from product thinking to ecosystem thinking.
It can be seen from the AWE 2019 that the ecological construction of various smart appliances is more and more mature. Now, although home appliance enterprises still develop intelligent home appliance products just as they did in the past, they start to integrate with platform enterprises, system software and content ecology, and even enter into other intelligent hardware fields to build a service ecosystem with its own characteristics. For example, intelligent TV forms an entertainment ecology integrating film, television, with game, advertisement, and shopping. Intelligent refrigerators establish a service ecology consisting of procurement, logistics, recommendation and cooking, with food as its core. Intelligent washing machine creates a service ecology encompassing clothes, detergent purchasing, clothes care and washing machine cleaning. The need for ecological construction for smart home makes cross-border cooperation a common phenomenon. Home appliance enterprises begin to cooperate with B-terminal fields such as telecommunication, real estate, hotels, home decoration and kitchen cabinets.
During the AWE 2019, Liang Haishan, vice chairman of Haier, shared the logic and results of Haier's smart family ecological brand strategy at the 2019 Development Forum on China Household Appliances held by the China Household Electrical Appliance Association (CHEAA) under the theme of "Technology Rebuilding and Ecology Reconstruction". Haier aims to build itself into an ecological brand at the era of IoT. With the three pillars of COSMOPlat, Shunguang and U +, Haier structures an open ecology featuring a large range of resources from all fields and mutual construction and preservation. Haier subdivides several ecology systems such as internet of clothing, internet of food and fresh air circulation based on users' demands for clothing, food, sheltering and entertainment. With these advances and progresses, customized and iterative life style is no longer a remote dream for users.
The ecological layout of Haier smart family realizes the precise supply and value release of the whole chain. For example, Haier "Internet of clothes" has opened up the whole chain of resources such as washing and care products and clothing enterprises, jointly providing users with one-stop services such as clothes purchasing, dressing, selecting, washing and nursing, which can definitely enrich the enterprises with diverse user demands. In this way, users can obtain complete ecological services, and relevant resource providers can also hew up precise and stable channels to guarantee ecological value-added sharing. Currently, Haier COSMOPlat platform has achieved cross-industry integration of 15 industries and 60 sub-sectors, centering on clothing, food, housing, transportation, well-being, raising and medical care. This integration has been synchronized in 20 global platforms such as GEA of the United States.
The desirable products of this AWE are smart refrigerators, intelligent TVs, smart door locks, intelligent speakers, magic mirrors, smart routers and other appliances serving as the entrance to smart home. But to look from the household ecological layout displayed by various enterprises, we can clearly find out that it characterizes with multiple entries and distributed patterns. Whenever the user utilizes any one of these products, it can connect various life scenes in the family into the intelligence system.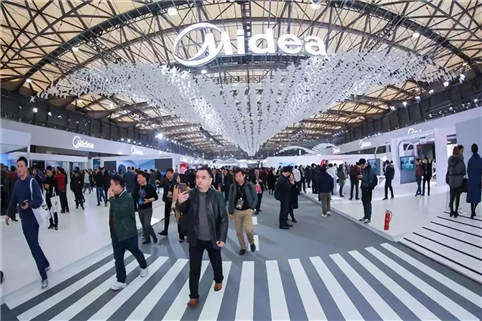 Midea experience hall displays the m-smart system for the whole house, and has released Midea intelligent door lock, Xiaomei intelligent speaker, intelligent switch control panel, Midea second generation body fat weight and other intelligent home products, constantly improving its intelligent home hardware ecology. Midea has established ecological cooperation with IBM, Aliyun and Huawei to obtain technical support for Internet enterprises. Through the layout of KUKA, Servotronix, Swisslog, M.IoT and Meicloud, Midea has gradually established an advantage in hardware, equipment, software of intelligent manufacturing and in the ecological layout of system service. The digital transformation practice cases of more than 120 enterprises in more than 20 industries are presented by Meicloud. While showcasing innovations and applications of Midea in its science and technology field, KUKA robot also provides a new intelligent tea service experience for the audience. It is said that KUKA will open robot milk tea chain stores, the first of which has been opened in Shanghai.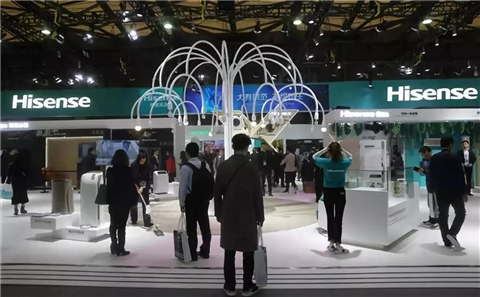 Hisense has demonstrated a refreshing smart community operation platform. This platform centering on family is equipped with many advanced technologies, for instance, intelligent entrances to community such as facial recognition intercom system, access control, video surveillance and intelligent parking, intelligent hardware entrances covering TV, PC, domestic refrigerators with large screen, and robots, and interactive terminal entrances of software. As a result, Hisense platform can obtain accurate user portrait and deeply dig the value of data, to offer the owners with their required food, health, entertainment, parenting and other value-added services. At the same time, this platform can also provide data support for property management companies, real estate developers and governments, which can help improve the efficiency of property management, and foster a safer, healthier, more convenient and comfortable community atmosphere.
Compared with the past, more Internet enterprises appear in the AWE 2019, with colorful solutions to the application of smart home and household appliances. In addition, these internet companies have jointed the efforts of home appliance enterprises to build an intelligent service ecology. Huawei released a new strategy on the spot which is to upgrade IoT ecological strategy into a contextualized smart strategy. It intends set up a rich and varied smart home ecosystem around the strategy of HiAI, two open platforms and three-tier structured products. At present, Huawei has more than 200 HiLink ecological partners.
JD has comprehensively upgraded its AIoT strategy and launched the JDwhale intelligent platform integrating Internet of things, artificial intelligence, big data and other technologies at the industry end. This is a way for JD to share its whole industrial chain capabilities, provide one-stop intelligent solutions of "technology + service + channel" and promote reverse customization. At the consumer end, JD plans to launch the product matrix of "Jingyu" brand, which is completed with Xiao Jingyu intelligent assistant. Through JD's big data analysis tool, brand manufacturers can analyze shopping process and comment data of consumers to understand their pain points and inconveniences and project their critical junctures, which will finally fueling brand marketing and product attractiveness.
Household appliance enterprises also begin to construct industrial ecology in the vertical subdivision field based on user thinking and service thinking. Robam shifts its focus to youth kitchen appliances by introducing a new brand "Turkey". This product meets consumer's all requirements for kitchen cooking facilities, further improving the kitchen ecosystem.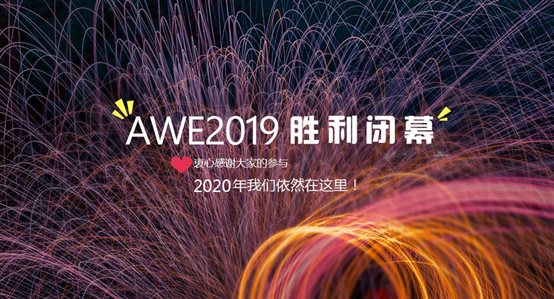 AWE 2020 is under preparation
Please do not hesitate to contact us for booth reservation
Contact information of the host:
The Chinese Household Electrics Application Association
TEL: +86 10 6709 3609
FAX:010-67156913
E-MAIL:awe@cheaa.com
WEB:www.awe.com.cn