The era of artificial intelligence has arrived, and AI chips are becoming more and more popular and sought after as the main computing power engine. In the upcoming 2018, especially after the ZTE crisis, a wave of core-building around AI chips swept through China. This is the best time. Earlier this year, ReportLinker predicted that the global AI chip market will reach $10.8 billion by 2023, with a compound annual growth rate of 53.6%. In China, the AI chip carries the expectation of overtaking in the corner of the integrated circuit industry and is supported and supported by the government from the top down. On July 8, 2017, the State Council issued the 'New Generation Artificial Intelligence Development Plan', proposing the development of intelligent computing chips and systems, focusing on breakthrough energy-efficient, reconfigurable brain computing chips. On December 14, 2017, the Ministry of Industry and Information Technology issued the 'Three-Year Action Plan for Promoting the Development of a New Generation of Artificial Intelligence Industry', stating that by 2020, the neural network chip will be mass-produced and scaled up in key areas. This is also a worrying era. This year, the AI chip and the Warring States era accelerated. After Google and Apple, global technology giants such as Facebook, Alibaba, Huawei, and Amazon have successively released AI chip products or strategies and formed confrontation with global semiconductor giants such as NVIDIA, Intel, and Qualcomm. The battle for ecology has finally begun. It can be foreseen that in the future, whoever masters ecology in the field of artificial intelligence will grasp the initiative; and the terminal side AI chip market will begin to permeate the smoke. Pragmatic entrepreneurs hurry to race against time or choose to shed blood, or speed up product launches, or look around for scenes that can start. Under the national heat of the core, 'PPT core' has also occurred from time to time.
AI chip summit will return to Shanghai
In March In 2019, will the ecological dispute between the giants trigger a change in the pattern of the integrated circuit industry? How to make architectural innovation breakthroughs in AI chip design? How does the AI chip scale down on different end-side scenes? Intelligent Industry Media and Innovative Service Platform Zhi will be hosting the GTIC 2019 Global AI at the Jumeirah Himalaya Hotel in Shanghai during the AWE2019 (China Home Appliance&Electronics Expo) on March 15, 2019. Chip Innovation Summit (hereinafter referred to as GTIC 2019 AI Chip Summit).This summit will be the first industry summit focusing on AI chip architecture innovation and application in 2019. It is also the first China AI chip summit successfully held on March 9, 2018 - GTIC 2018 global AI chip innovation After the summit, the second AI chip summit hosted by ZhiDX. As the first AI chip summit in 2019, the GTIC 2019 AI chip summit will be based on the theme of "A new pattern of AI core eco-industry", designing four major themes, inviting from academia, artificial intelligence, Internet of Things, semiconductors, mobile phones, Well-known scholars, algorithms, technology bulls, entrepreneurs, corporate executives and investors in the security and home industries gave wonderful speeches and discussions. The conference will last for one day and it is expected that more than 1,000 people will be present at the event.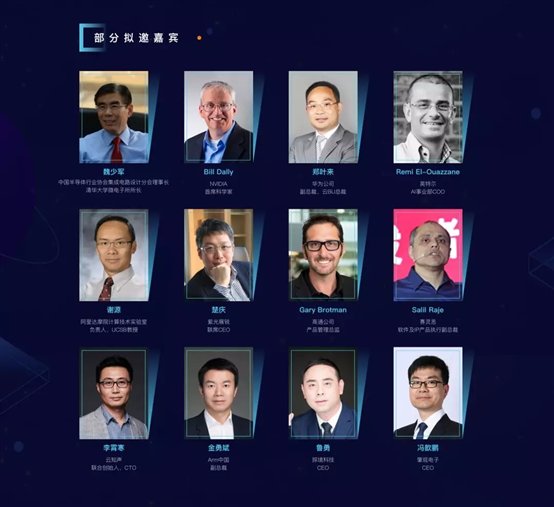 GTIC 2019 AI Chip Summit Partially invited guests
Four major themes are 'the AI chip is coming to the era of the giants in the Warring States era,' the 'AI mobile phone era opens up the industry chain to promote new opportunities', 'Security AI chips landing speed in the industry, how to break through the battle' and 'AIOT industry outbreak soon The AI chip accelerates the new track.''The AI chip is coming to the Warring States era. The battle for the giant ecology is one of the themes'. This section will focus on the ecological battle between the emerging AI chip giant and the world's established semiconductor giants around artificial intelligence chips. We will invite executives from semiconductor giants and emerging AI chip giants to give presentations on how the giants are building up their architecture and their artificial intelligence chip strategy. We hope that through this section of the explanation and collision, we can more clearly see the technical trends and development direction of AI chips in 2019."The AI mobile phone era opens up the industry chain to promote new opportunities" is the second part of the theme section. It will focus on the technological innovation opportunities and application development dividends brought by Huawei and Apple-led mobile phone AI chips to the mobile terminal industry chain. In November this year, Samsung officially released the first SoC chip Exynos 9820 with NPU. Samsung Exynos 9820 is expected to be mass-produced by the end of 2018, and it may be equipped as soon as possible on the Samsung Galaxy S10 mobile phone released at the end of February 2019. This means that the world's three major mobile phone giants Samsung Apple Huawei's mobile phone AI chips have all been in place, almost only waiting for the release of Qualcomm's new version of the Opteron chip, the mobile phone AI chip war will be fully erupted in 2019. We will invite core players in the AI mobile phone industry chain to participate in this section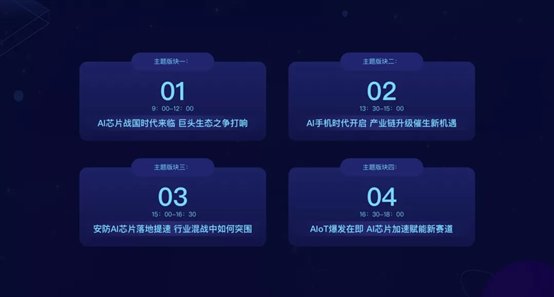 GTIC 2019 AI Chip Summit Theme Section'Security AI chip landing speed to accelerate the industry in the melee' is the third section of the theme.
As the largest field of artificial intelligence wave, security is also a battleground for this wave of AI chip companies. However, the security chip overlord Heis in this year's strong entry is undoubtedly forced to speed up the AI chip start-ups on the scale, how to break through becomes a big problem. We will invite traditional security companies and AI chip emerging startups to participate in this section to give speeches and exchanges.'AIOT is outbreaking, and the AI chip is accelerating the new track' is the fourth of its kind. The large-scale increase of smart speakers in 2018 led to the accelerated rise of AI voice-specific chips. Some organizations estimate that global smart speaker shipments will reach 62.25 million units in 2018, and it is expected to exceed 90 million units in 2019. Xiao Ai has become the central nerve in Xiaomi's "AIoT" strategy. In the latest organizational restructuring, Alibaba has assigned the artificial intelligence laboratory led by Shallow Snow to the group's innovative business group and reported directly to CEO Yong Zhang. Also in the year of 2018, Yun Zhisheng, go out to ask questions, Rokid, and Spirit have released AI voice chip products, or released a streamline plan. In addition, building a low-power AI chip based on RISC-V is also a new solution. It is foreseeable that the AI chip will accelerate the golden circuit of AIOT in 2019. We will invite relevant chip companies and AioT giants to participate in this section.
China's first AI chip summit review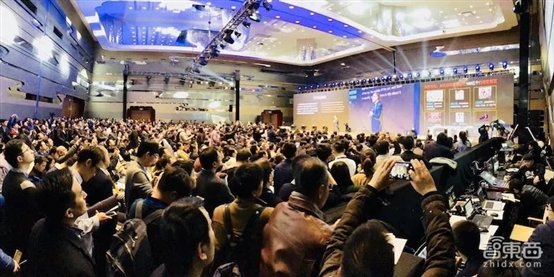 GTIC 2018 AI Chip Summit SiteAs China's first AI chip summit, GTIC 2018 Global AI Chip Innovation Summit has achieved great success.
Guest level. Wei Shaojun, director of the Micro-Nano Electronics Department of Tsinghua University and the director of the Microelectronics Institute, as the opening guest, proposed that application and architecture innovation is the only way to develop artificial intelligence chips, and focused on 'reconfigurable computing'. At the same time, the world's four major semiconductor giants Intel, NVIDIA, Qualcomm, MTK executives gave a wonderful speech. They are Chen Yurong, director of Cognitive Computing Laboratory of Intel China Research Institute, Li Weixing, vice president of technology of Qualcomm, Simon See, Asia Pacific chief technology officer of NVIDIA AI Technology Center, and deputy general manager of MediaTek and general manager of intelligent equipment business group. Among them, Li Weixing, vice president of Qualcomm Technology, introduced Qualcomm artificial intelligence engine AI Engine for the first time in China; Yan Jie, deputy general manager of Unicom Technology and general manager of intelligent equipment business group, introduced the NeuroPilot artificial intelligence platform and low chip power consumption unit APU.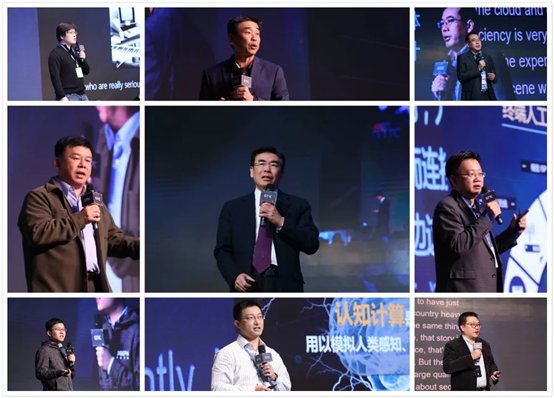 Part of the GTIC 2018 AI Chip Summit
In addition, Yao Jian, co-founder and CEO of Yao Jian Technology, Huang Chang, Horizon Co-founder and Vice President of Algorithms, Zhu Jizhi, founder and CEO of Ophthalmology Engine, Tang Weiwei, Product Strategy Director of PAX, Zhou Bin, President of Novumind China, Deep thought of innovation CEO, German army and company chairman He Yunpeng and other artificial intelligence chip entrepreneurs also delivered speeches and conflicts.
Zhao Feng, vice president and chief technology officer of Haier Home Appliance Industry Group, Zhang Xingming, vice president and general manager of R&D Center of Lahua, and Yao Hua, vice president and chief designer of Yushi, respectively expressed their views on AI chip technology on behalf of home appliance giants and security giants. Insight into the application of the industry. For more information on the GTIC 2018 AI Chip Summit, check out AI Chip Huashan Sword! There are 26 big talks here.
Audience level. According to statistics, more than 2,700 spectators attended the conference, more than 50% of technology and business practitioners came from the IC industry and artificial intelligence, and more than 30% of technology and business practitioners came from the security, automotive and home industries. The company's founders, technology leaders and director-level managers account for nearly 60%. On the day of the summit, the scene was very hot. At 7 o'clock in the morning, the audience queued up. Many viewers stand up to listen to the day or watch live broadcasts in the live zone. At the same time, Tencent News, today's headlines, Phoenix News, Sina News, Netease News and other live broadcasts of 7 live video platforms attracted nearly one million users to watch online.
Intellectuals systematically focus on AI chips
In addition to organizing the second AI Chip Innovation Summit based on GTIC, ZhiDX continued to systematically focus on the architectural innovation and application of AI chips through "Media + Open + Community".
Media side. In the process of barbaric growth, accelerated landing and accelerated integration, more AI chip companies began to adopt their own differentiated routes. To this end, Zhiwu will conduct in-depth follow-up reports on nearly 100 core enterprises in the upstream and downstream of the AI chip industry chain. Currently, the first quarter of the AI chip series report has been launched, and the second season of the AI chip industry series report is underway.
Public class. 'Knowledge and Public Open Course' has launched three seasons of AI chip series courses, MediaTek Computing and Artificial Intelligence Director Zhang Jiayuan, Deep Intelligence CEO Yang Zhiming, Touch View CEO Xiao Hongbo, Feng Jie, Chief Lingbi Technology Architect, Huadeng International Partner Wang Lin, Qi Feng Technology Co-founder Zhao Hualong, Jin Yun Technology CEO Niu Yuyu, Yuntian Lifei Processor Architecture Director Li Wei, Yun Zhiyi Co-founder Li Yihan, Anlu Information CTO Huang Zhijun, Zhixin Instant CTO Wang Zheng, imagined that 12 Chinese lecturers, including Zheng Kai, China's technical manager, had lectured. Gao Tian Semiconductor Vice President Wang Tianping, R&D Vice President Song Jian, Zhicun Technology CEO Wang Shaodi, Chief Technology Officer Xiao Yu will deliver a speech in the third quarter of December. In the second season, for example, the average number of people who listened to a live broadcast exceeded 2,300. In addition, 'Smart Things Open Class' also organized 15 super-open NVIDIA special sessions to explain the technical innovations and applications of NVIDIA's latest GPU acceleration products.
Community side. Smart Things has built an AI chip community that encompasses 'computing power, algorithms and applications', including the AI chip community, the high-performance computing community, the deep learning community and the smart security community. The AI community system covers tens of thousands of people, core engineers, developers, algorithm researchers and AI chip entrepreneurs.
Conference registration channel officially opened
AWE (China Home Appliance and Consumer Electronics Expo / Home Appliance & Electronics World Expo) is sponsored by the China Household Electrical Appliance Association. It is China's largest comprehensive home appliance exhibition and has become one of the world's three major home Appliance exhibitions. As a strategic partner of AWE, this is the third time Zhiwu has cooperated with AWE, and has placed GTIC in Shanghai for the third consecutive year.
The GTIC 2019 AI Chip Summit is the 5th GTIC Annual Industry Summit hosted by Smart Things since April 2016. Previously, Zhizhi also hosted GTIC 2016 China (Beijing) VR/AR Industry Summit, GTIC 2017 Global (Smart) Technology Innovation Summit, GTIC 2018 Global AI Chip Innovation Summit and GTIC 2018 Global Smart Vehicle Supply Chain Innovation Summit.
In order to facilitate everyone to participate in the GTIC 2019 AI chip summit, we also set up multiple registration channels.
1. The main channel for the audience registration
At present, we have opened the registration channel for the conference in the event. Welcome to pay attention to the AI chip technology development and application of friends to apply. The registration needs to be reviewed, and the follow-up will be confirmed by telephone or SMS.

2. Open class user registration channel

If you have ever listened to the 'Intelligent Open Class', or if you have joined the Smart Industry community, you are welcome to apply. There will also be a public class user seat on site. The users who are finally confirmed by the audit will enjoy the following benefits:

- Seating in the open class area (half an hour before the start of the meeting);
- Customized open class user invitations;
- PPT for the speaker (only for external PPT);