Statics provided by AVC, a third party data agency, that at the first half of 2018, the whole growth of the household appliance industry became slow with an increase of 5%. Although it still had a double-digit growth based on the historic high achieved at last year in the air conditioner sector, markets involving kitchen appliance, refrigerator, and black home appliance is still not optimism.
According to the genral data of China Market Monitor Co., Ltd that, the consumer sales and retail sales of the air conditioner industry at the first half of the year increased 16.6% and 21.7% respectively. At the first half of the year, the retail sales amount of Chinese kitchen appliance was RMB 46.9 billion, down 0.5% compared to the same period of last year. In particular, the traditional kitchen appliance that kitchen appliance plays the great role beared a comparative big market pressure: the retail sales of extractor hood, gas stove, and disinfection cabinets slipped 3.8%,1.6% and 13% respectively. At the first half of the year, ice bath retail sales amount slipped 2.6% and 0.9% respectively and their retail sales value increased 7.2% and 7.5% respectively while the retail sales of color TV increased 1.3% compared to the same period of last year while its retail sales amount slipped 5.2%.
In the view of consumption environment, there is still some factors that should not be ignored and worthy the whole industry to tackle carefully. It is shown by the public statics that, in 1996, the household leverage of Chinese citizens was only 3% and in 2018, this number only reached to 18%. But since 2008, it has shown a trendency of rapid grouth. Within six years, it has been doubled, amounting to 36.4%. Up to 2017, it reached 49.0%. This growth will produce negative effect on consumption market while the rising of debt proportion will curb citizen's consumption level to a certain degree and further influence the industrial situation of relevant goods.
It could be said that, household appliance mingles hope and fear, mixing with invisible pressure and risk. In the long time of the future, companies all have to face controllable and uncontrollable factors. Under such industrial situation, household appliance companies are like walking on thin ice. If there is one value pression land that compaies are flocking to, that will be AWE.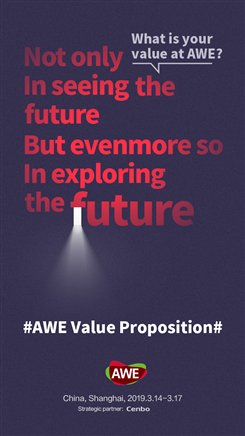 "Because the exhibition hall company could not provide enough halls, the exhibition scale of AWE in 2019 will not increase rapid. Thus, the organizer will strictly select exhibitors with the purpose of improving the quality and level of exhibitors, adjusting and enriching the scope of the expo. The booth of AWE 2019 is quite out of demand. Exhibitors compete fiercely for the booth", said by above responsible person.
Under the great background of cold household appliance industry, why AWE is still the main battle field that global brands want to participate in?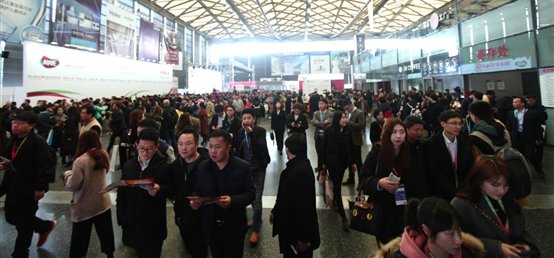 As a "major exhibitor" of AWE, Haier has set up a unique exhibition hall for many sessions in a row. With regard to this behavior, Cheng Chuan, General Manager of Marketing Department of Haier Household Appliance Industry Group, considers that, "if AWE could let customers to experience all products, have comprehensive exchange with global partners, and attract thousands of media to pay attention to, only one exhibition hall is a luxury?" These words right give full affirmation to the platform value of AWE.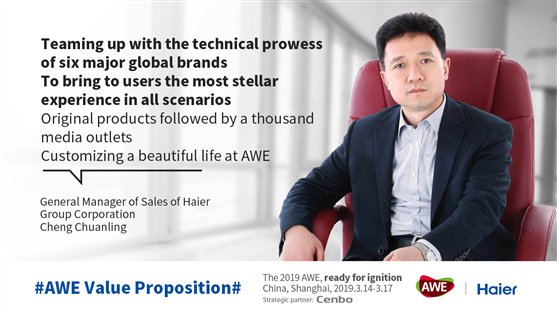 However, Liu Hongxin, President of Hisense, expects more to AWE of next year. He predicted in advanced to the public that, "after the excellent Russian World Cup, what has Hisense done? Moer surprise? Come to AWE, Hisense would like to witness science and technology and the future with you to see the scence of good life".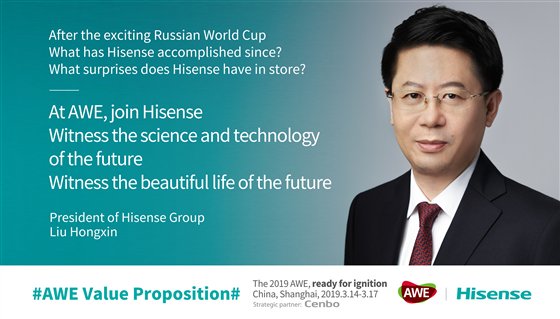 There are a thousand Hamlets in a thousand people's eyes. In the view of Wang Cheng, Senior Vice Presidnet of TCL Group, AWE shows an intelligent household appliance sceme with more advanced imagination, an future technology trend with more meditation on human nature. It aims to create good life for human being. Coming to AWE witness the globalized strength of TCL for being as a brand of powerful country.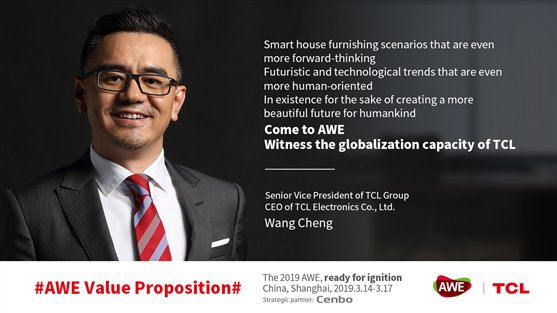 AWE 2018 the first time for AED, a high-end brand of German kictchen appliances, to appear in China. Warmedinger Klaus Peter, Chief Technology Officer of AEG, said that, "AWE is a feast shared by the world. Here, technology and aesthetics reflect with each other. Come to here to appreciate the hundred-year brand quality and join hand with classic brand ."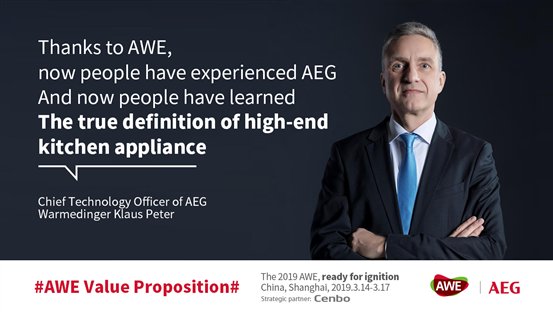 That they view and evaluate AWE from different angles right reflects the multi-dementional value provided by AWE to global companies and customers.
Rising AWE
We still remember the grand occasion of AWE 2018 in March of this year. During the foure day of AWE 2018, onsite visitors reached 292,600, an increase of 33% compared to lasy year and the number of consumers appeared a rapid growth of 200%. AWE 2018 also attracted overseas visitors from 76 countries and regions in the world and this year, this amount will be further increased into 8%.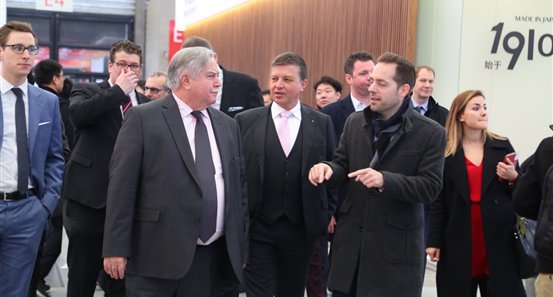 AWE 2018 witnessed the rapid growth of the visitors. But what's more attractive is the leap of AWE's visitor quality. Among all visitors of AWE in 2018, professional visitors accounted for more than seventy percent while senior management of companies accounted for more than half of all professional ones.
During the period of AWE 2018, giants in home appliance and electronics industry including He Xiangjian, Founder of Media Group, Hong Bo, President of Media Group, Liang Haishan, Excutive President of Haier Group, Dai Zhengwu, President of Sharp, and Yu Chengdong, CEO of Consumer Business of Huawei were all present at the stage of AWE, which caused big splash in the industry.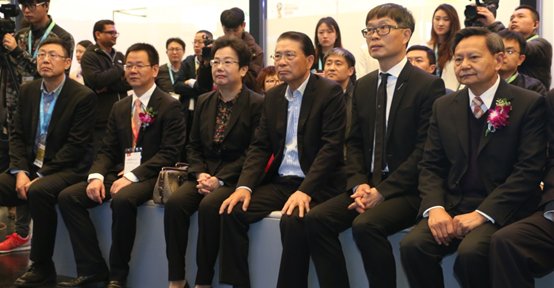 It is known that, before the AWE 2018 ended, Germany Kitchenware Association had aleady confirmed to join hands with China Household Electrical Appliance Association to participate in the AWE of 2019 while German companies including Miller and Nobilia have already taken actions to make the intention to continue to come to China to participate AWE 2019.
Jiang Feng, soul of AWE and Director of the Board of China Household Electrical Appliance Association once expressed when he accepted reporter's special interview during the period of AWE 2018 that, " the first precondition that attract these global companies is that the middle and high-end consumption market brought by the 400 million Chinese middle class. This is very important for they can not be attracted if there is no such a big market. And the second precondition is the good platform built by AWE. It is the competitiveness of technology, of product, of brand, rather than price. It is the platform for companies to release new technology, new products, and new strategy".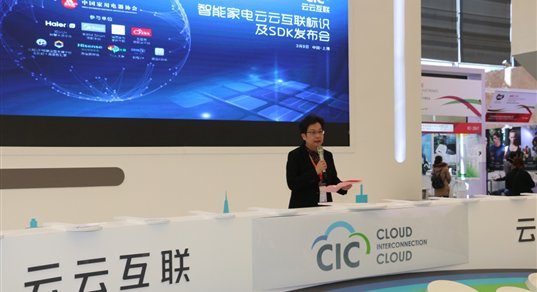 Although AWE has become the most influential value depression among all global companies, Jiang Feng said once that, "being as an exhibition, AWE is still in the rising stage and haven't reach the peak".
The outsiders commented the organizers of AWE, dominated by Jiang Feng, that right because of their attitude of continuous progress and self-strengthening mood, AWE can demonstrate an innovation gesture compared to that of previous years and become one of global top fairs and a value depression land that global companies flock to.
Now, Appliance & Electronics World Expo 2019 (AWE 2019 for short) has been officially launched. This global top appliance and electronics industry feast will be held from March 14 to 17, 2019 at the New International Expo Center in Shanghai. In 2019, Awe will re-define the theme of "Intelligent Life, Global Platform" with richer innovation products and solution, more cross-border elements and international big brands, and fully demonstrate the beautiful life blueprint brought by intelligent technology in a new era.
It remains to see what a value feast that AWE will bring to the world.