The Appliance & Electronics World Expo 2019 (AWE 2019 for short), global feast of top home appliances and consumer electronics which will be held at the Shanghai New International Expo Center as usually from March 14th to 17th, 2019, has been officially launched. In 2019, it will once again demonstrate the theme of "Intelligent life, Global Platform" through richer innovative products and solutions as well as more cross-industry elements and international enterprises so as to fully display the beautiful life blueprint owing to intelligent science and technology in a new era.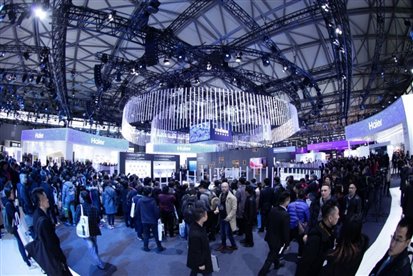 AWE2018 Hit a New High in Scale and Its Global Influence Continuing to Be Improved
  AWE2018, covering an exhibition area of nearly 130 thousand square meters with 292.6 thousand visitors, nearly one hundred conference presses, and tens of thousands of new products launching, has further consolidated its position of being as a global top platform of home appliance and consumer electronics. Thus, the tripartite pattern of AWE, IFA of Germany, and CES of the United State has been officially established.
  When its scale has been steadily increased, the ever-growing AWE has now attracted more and more global home appliance and consumer electronics companies to participate in. In 2018, global consumer electronics giants like Sony and Philips were exhibited at AWE for the first time.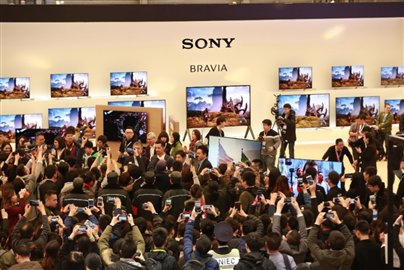 The Technology Park, initially opened in 2017, was still very popular during the period of AWE in 2018. Internet giants such as Tencent, Sinovation Ventures, Lenovo, GoPro, and UBTECH, innovative investment institutions, and a large group of scientific startups were introduced into the Park to display the global latest technology and advanced intelligent life scenario in terms of AI, intelligent traveling, intelligent entertainment, and sports health to bring unprecedented experience to visitors.
  In 2018, the number of AWE visitors again realized a new breakthrough. According to the statistics, during the four-day exhibition, onsite visitors reached 292.6 thousand, an increase of 33% year on year while the number of consumers had a rapid growth of 200%. AWE2018 also attracted visitors from 76 countries and regions while the proportion of overseas visitors in 2019 will rise to 8%.
  AWE2018 witnessed the rapid growth of visitors as well as the leap in quality of visitors. Among all visitors, professional ones accounted for more than 70% while senior management from companies accounted for more than half of the whole professional visitors. During the period of AWE2018, giants of home appliances and consumer electronics such as Xiangjian He, Founder of Media Group; Hongbo Fang, President of Media Group; Haishan Liang, Executive President of Haier Group; Zhengwu Dai, President of Sharp and Chengdong Yu, CEO of the Consumer Business of Huawei appeared at AWE and brought a great stir in the industry.
  As the most dynamic platform with most innovative spirit in terms of home appliance and consumer electronics all over the world, AWE's global influence has been continuously improved. During the period of AWE2018, more than ten embassies, consulates, and commercial counselor from foreign countries in China came to tour the expo; overseas industrial organizations such as AMK(Association for Modern Kitchen Germany) and JEMA (Japan Electrical Manufacturers' Association) organized their local enterprise senior managers to watch the development trend of science and technology in AWE; tens of overseas media conducted in-depth reports on AWE2018; and domestic real estate companies together came to AWE to make negotiation and seek for business cooperation.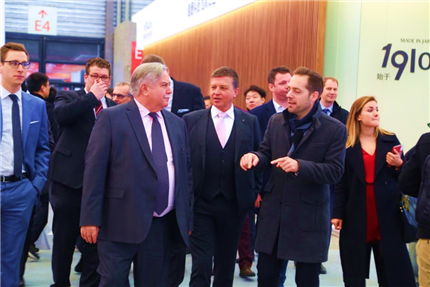 As a best window of observing the innovative development trend of global home appliances and consumer appliances industry, AWE has attracted high attention from state-level media. From March 5th to 7th, Morning News, Joint Broadcast of Economic Information, Worldwide Exchange, and 24 Hours, core financial news programs of CCTV, broadcasted the 2-miunte promotion video of AWE2018 in a continuous loop for three days in a row. This in itself was a piece of news with significant meaning when the whole country paid attention to the National People's Congress and Chinese People's Political Consultative Conference. Moreover, CCTV also sent nearly 30 reporters including the manufacturers of its eight great programs to perform full-range report of AWE.
  Now, AWE has become a large-scale comprehensive platform, involving home appliances and consumer appliances and integrating upstream and downstream of the industrial chain, consumers, capital market, and media.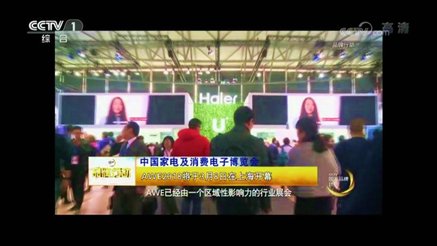 Integrating More Cross-industry Elements, AWE 2019 Being Hard to Participate in
  The bustle of AWE2018 has not gone yet, it has been comprehensively launched for 2019, which will be held during March 14th to 17th, 2019.
  It is said by the project head of AWE that, since the exhibition hall company is not able to provide sufficient halls, the exhibition scale of AWE in 2019 will not increase sharply and thus, the organizer will strictly select exhibitors with the purpose of improving the quality and level of exhibitors and adjusting and enriching the scope of exhibition within limited exhibition scale. The exhibition booth in 2019 is in the very shortage. Therefore, the race is wide open. When AWE 2019 had not been officially launched, it is very hard to book one booth.
  According to feedback, most exhibitors demand to expand their exhibition area: industrial leading companies continue to give full play to their role in whole category manufacturing; Haier demonstrates its latest innovative results of its affiliated six brands through one whole hall; Media also uses one hall to comprehensively display its consumer appliances, heating ventilating and air conditioning, robots and automation system, intelligent supply chain (logistics) products and solution; and Hisense Group expands its exhibition booth to half a hall.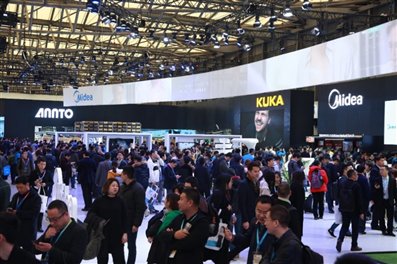 As to innovative products and solutions, AWE 2019 will continue to display advanced technologies such as AI, mobile internet, Internet of Thing, cloud computing and big data as well as the latest achievements integrated home appliances and consumer appliances with more diverse elements. During the period of AWE 2019, intelligent home appliances, smart home, intelligent traveling and intelligent entertainment will once again become the hot topics. Exhibitors such as Hisense will showcase its innovative intelligent transportation, intelligent medical treatment, and intelligent urban solution as well.
  In 2019, AWE will join hands with AMK (German Association of Modern Kitchen Industry) to set up the German Kitchen Pavilion, covering an area of more than 1,500 square meters. Famous German kitchen companies including Nobilia will set up its brand area within this pavilion to showcase its modern kitchen technology and solution such as integrated kitchen and overall kitchen.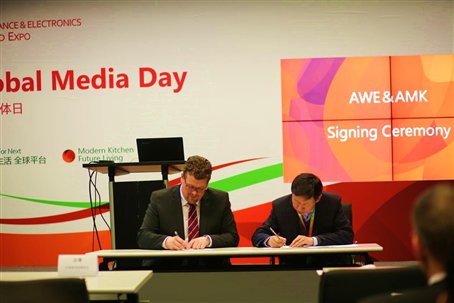 AWE 2019 is expected to welcome 350 thousand visitors while the proportion of overseas visitors will be further increased.
  It is said that, China Household Electrical Appliance Association will host the strategy conference in October 2018, and at that time, it will release the details of the development strategy, hot topics and exhibitors of AWE in 2019.
  Along with its formal launching, AWE2019, the exhibition of the innovative achievements in terms of global home appliances and consumer electronics has been unfolding.